4 Types of Air Duct Contaminants
5/8/2023 (Permalink)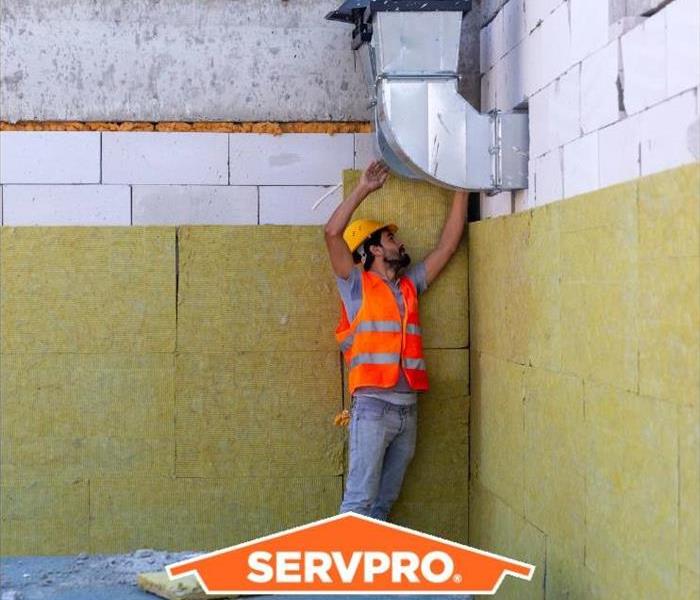 If you own a business, you should know all about how to keep your air ducts free of contaminants. However, it's also important to know what types of contaminants can build up there.
Most residential and commercial property owners take their air ducts for granted. Meaning, as long as cold and hot air is emitted when desired with no chemical or burning scents, most people are content. However, air duct contamination can become a real problem and it must be addressed.
The four main types of air duct contaminants are:
Pests
Ductwork is the perfect conduit for warm air during winter and cool air during the summer. This makes it an attractive nesting spot for many insects and rodents, some of which might spread pathogens and cause other damage. Unless you enjoy rats, mice, or roaches suddenly showing up in your property, you'll probably want to have your ductwork cleaned regularly.
Dander, Dirt, and Dust
These are the most frequent contaminants that you'll find in typical ductwork. Textiles such as furniture and carpets often generate dust and dirt and they will gain entry through windows and doors. Dander is the result of hair and skin cells that are shed by both animals and people.
The good news is that the majority of dirt, dust, and danger are removed during standard vacuuming and cleaning. The bad news is that because they consist of particles that readily become airborne, your air ducts will suck them in. While HVAC systems have filters that are capable of capturing the particles in varying quantities, there is still plenty that will end up in the ducts, accumulating as the months and years go by.
Mold
Mold can be found in virtually every home, from studio apartments to penthouses and mansions. However, most forms are relatively harmless to humans and pets. They result from condensation within ducts which frequently occur because of insufficient insulation. Once mold colonies form, they will contaminate the air of the interior each time the HVAC system is activated. There is also rare black and green mold that is considered a biohazard and if they appear in your home, you'll need to evacuate so the property can be professionally cleaned.
Allergens and Pollen
Both airborne allergens and pollen behave similarly to dirt, dust, and danger, appearing within air ducts. While some of it comes from outside the building, others will be generated from within. Either way, both will compromise the quality of your indoor air and can cause some serious effects on your health.
As you can see there are many contaminants that can appear in your building's ductwork. Commercial property owners, in particular, must be careful because businesses are required by OSHA (Occupational Safety and Health Administration) to create a safe working environment for employees. If your building is found to have contaminants in the ductwork that is harming employees or customers, it can threaten your business and potentially lead to fines and litigation, not to mention a loss of reputation.
This is why regular cleaning of your ductwork is so important, but because the task can be tedious, it is best to hire a professional like SERVPRO that has the expertise, equipment, and credentials to get the job done right.
About SERVPRO Team Harvey
SERVPRO of Lower Manhattan is proudly owned by Lance and Jennifer Harvey - a husband and wife duo that owns three other SERVPRO locations, including SERVPRO of Aberdeen/Holmdel, SERVPRO of West Somerset County, and SERVPRO of Hoboken/Union City.
We understand the stress and worry that comes with a fire or water damage and the disruption it causes your home or business. Our goal is to help minimize the interruption to your life and quickly make it "like it never even happened."