SERVPRO Team Harvey's Water Restoration Steps
4/21/2023 (Permalink)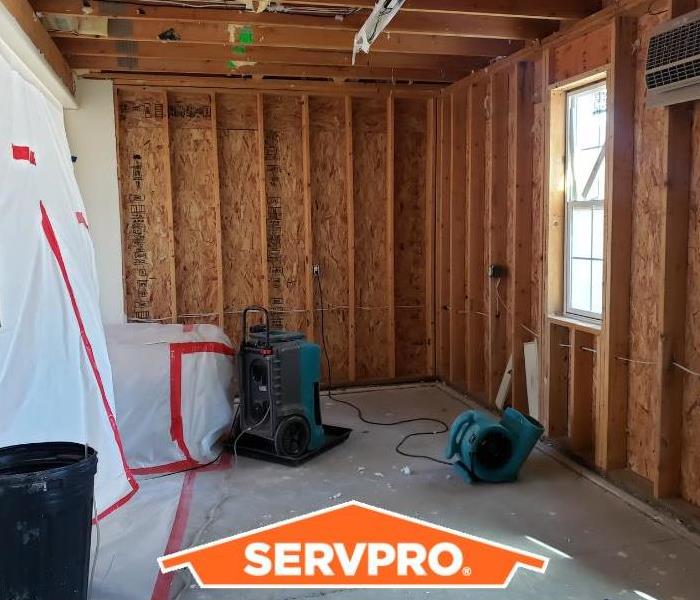 Each water damage scenario is usually a little different. Homeowners and business owners deal with water damage from burst pipes and floods, to sewer backups, and plumbing problems. Whatever the case may be, we have a 6 step process for water restoration. These steps detail our process for the typical water-damaged property.
Step 1: Emergency Contact
The Restoration process begins when you call us. SERVPRO of Hoboken/Union City is available 24 hours a day for water emergencies, large or small. When you're dealing with water damage, immediate action is crucial. Even a delay of a few hours can greatly increase the severity of the water damage.
When you call, you'll be asked several questions:
Your name and contact information
Your insurance information (if applicable)
The street address of the water-damaged home or business
When did the flooding or water damage occur?
What caused the damage? (If known)
Is there electricity available? (On-site)
Step 2: Inspection & Water Damage Assessment
When responding to a water damage emergency, we begin with a detailed inspection of your home or property, including a damage assessment. At this stage, our professionals are trying to determine the scope of the damage so that we can develop an appropriate plan of action.
We will check for the source of moisture in your home or business. The source must be stopped before any restoration or drying of the building can be successful.
We will identify the category and classification of water damage to ensure our professionals restore your property based on industry guidelines. The level of contamination of the water will affect the specific restoration process we use.
We'll inspect and test to determine the extent of damage and how far the moisture has traveled to ensure proper and complete restoration. In addition, we will inspect for safety concerns that may be evident. If there are any safety issues like lead or asbestos, please bring them to our attention.
Step 3: Water Removal/Extraction
After the inspection and damage assessment, the water extraction process begins. This step removes the majority of the water, as we use powerful pumps and truck-mounted units to quickly remove hundreds or thousands of gallons of water from your property.

If your home requires extensive restoration or cleaning, we can conduct an organized move-out to protect your belongings from further damage.
Our highly trained technicians will begin the water removal process almost immediately. Depending on the amount of water, we may use powerful submersible pumps in addition to industrial strength, wet/dry vacuums. Removing most of the water helps reduce drying time and helps prevent secondary water damage and mold and bacterial growth.
The water removal equipment we use include:
Moisture detectors, hygrometers, and other meters that measure the extent of moisture saturation.
Infrared cameras may be used to find "hidden" water behind walls and ceilings.
Submersible and gas-powered pumps are used for continuous pumping of high-level water.
Truck-mounted and portable extraction units perform efficient water removal.
Step 4: Drying and Dehumidification
Once the excess water has been removed, the floors and walls may appear dry, but a quick inspection will reveal they are wet to the touch. Nearly all building materials, like wood, drywall, and flooring materials, are porous and therefore retain water. This retained water can cause the materials to break down, warp, or cause mold damage.
Our professionals will use room measurements, temperature, and relative humidity to determine the optimal number of air movers and dehumidifiers to dry your home or business. We'll carefully monitor the process using moisture meters until the materials return to acceptable drying goals.
Our drying equipment includes:
Industrial-grade dehumidifiers help prevent secondary water damage like swelling or warping of floors, walls, and furniture.
High-speed air movers create airflow across walls, carpets, pas, and furniture, which accelerates the evaporation of moisture.
Step 5: Cleaning and Sanitizing
Your walls, flooring, and ceiling will most likely require professional cleaning services. In addition to cleaning your property's structure, we will clean your furniture, upholstery, clothing, and other restorable belongings damaged by the water. Most flooding and water damage also require professional odor removal and deodorization since wet materials have a very distinct odor.
We are trained to identify and eliminate offensive odors. Our technical expertise and industrial grade scrubbers and fogging equipment go well beyond simply masking odors and other shortcuts that don't work when your odor problem is serious or persistent.

When it comes to sanitizing treatments, depending on the scenario, we may use antimicrobial, antibacterial, or disinfectant treatments to clean your property.
Step 6: Restoration
Restoration is the final step! It's the process of restoring your home or business to its pre-water damage condition. Restoration may involve minor repairs, such as replacing drywall and installing new carpet, or may entail major repairs such as reconstruction or various areas or rooms in a home or business.
If you need our restoration services, please contact us right away. You don't want to let water sit in your home, causing more damage and getting more expensive.
About SERVPRO Team Harvey
SERVPRO of Hoboken/Union City is proudly owned by Lance and Jennifer Harvey - a husband and wife duo that owns three other SERVPRO locations, including SERVPRO of Lower Manhattan, SERVPRO of West Somerset County, and SERVPRO of Aberdeen/Holmdel.
We understand the stress and worry that comes with a fire or water damage and the disruption it causes your home or business. Our goal is to help minimize the interruption to your life and quickly make it "like it never even happened."